No hose, no mask, just sleep.
Creekside Sleep Medicine Center is pleased to announce we are offering a new FDA-approved therapy to patients with OSA who have been unable to consistently use their CPAP device: Inspire®
What is Inspire® Therapy?
Inspire® therapy is an FDA-approved minimally invasive implanted device that delivers mild stimulation to keep a patient's airway open during sleep. It works with your natural anatomy and is controlled with a hand-held remote.
Inspire therapy significantly reduces sleep apnea events by 78%
Snoring reduction in partner reported snoring by 80%
Meet our Providers & Hear from a real Inspire® Patients
via a Virtual Community Health Talk Webinar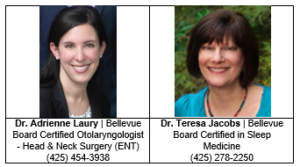 If you are interested in learning more about this new, minimally invasive therapy for moderate to severe obstructive sleep apnea, we would like to invite you to join an upcoming Virtual Community Health Talk Webinar hosted by Drs. Adrienne Laury and Teresa Jacobs who are specially trained on the Inspire procedure and management. They will be joined by an Inspire patient ambassador who is living with the Inspire therapy and who will share their experiences and answer questions from the audience about their journey.
Webinar: Tuesday September 14 at 5pm